"Italian Gentleman" - "Art of Shaving" - "Rasatura" - "Barbieria Colla" - "Italian Men's Grooming"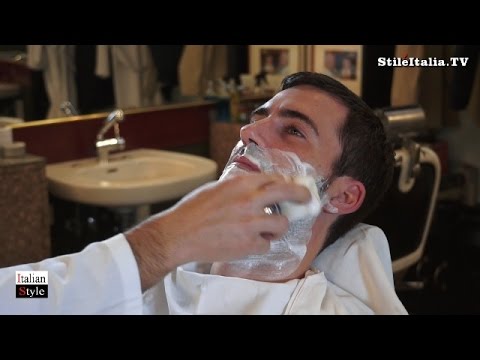 "Antica Barbieria Colla is the most famous barber shop in Milan, known for prestige, for its traditions and widely recommended by its Italian and International clientele.
Founded by Dino Colla in 1904, the Barbershop is the place to seek hair, beard and mustaches treatment as well as to meet famous people.
When entering the store one has the impression of travelling through time into a world where attention to the customer and detailed care are sacred and inviolable values. Shaving at the Barbershop is a ritual of great charm: a warm cloth, pre-shave cream, animal hair brush, razor blade that caresses the skin without irritating it, another cream, other cloths, and enormous attention during all phases of the process, a truly attentive service.
Under the leadership of its current owner Franco Bompieri, who has been working in the same historical shop since 1960, the "Antica Barbieria Colla" has consolidated its prestige. As well as providing impeccable hair-cuts and shaves, the owner is also a well-known writer, author of several books.
The products used in the shop are created especially for the skin treatments. They are prepared following an ancient tradition passed on from owner to owner. Up to a short time ago such products were used in the Barbershop primarily. The strong demand by customers and friends motivated Francesca Bompieri, Franco's daughter, to make her marketing experience available to the family business with the creation of an exclusive line of products for hair and face called "Antica Barbieria Colla".
Content Original Link: