Who is the Roman Guy?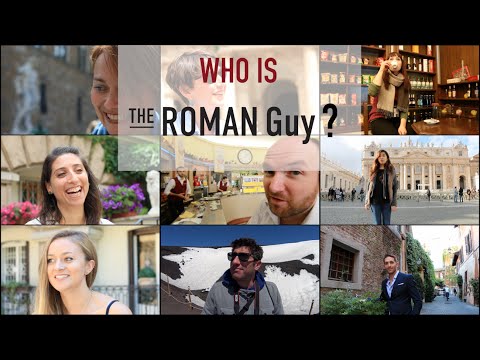 We are a team of travel experts that works in order to offer endless services to travelers that wish to discover Rome and Italy in an unforgettable way: avoiding crowds, discovering hidden places and having fun! #ItalyOurWay #RomeOurWay
https://theromanguy.com/
https://theromanguy.com/italy-travel-.
..


A little bit further forward.
Okay.

Filming? I'm Sean from The Roman Guy.

Today, we're in beautiful Trastevere.

Hello. My name is Luciana.

I am a tour guide in Rome.

I'm Lorna. I work in Marketing and PR for The Roman Guy.

They call me the Social Butterfly.

Hi, my name is Brandon Shaw.

I am the Director of Unforgettable Memories at The Roman Guy.

I'm an official tour guide of Rome.

I'm Bojan Tubin.

I am a travel expert with The Roman Guy.

Ciao a tutti, my name is Elena. I'm Florentine.

I've always lived here all my life.

I'm a tour guide.

Hi, I'm Rachele Ceccorulli.

I'm the assistant manager of operations at The Roman Guy.

Hi, my name is Chiara.

I'm your guide in Venice.

Let's hug first.

Come on, give me a hug.

When we started The Roman Guide, we began with one mission. Strive to create fun and innovative ways for travelers to experience Italy.

What we mean by that is giving people what they want.

Creative tours and day trips led by fun people that are going to give more than just a history of us.

I'd rather have everything on together.

You're in Venice, right?

I eat the one that I like it most.

It's about immersing yourself into the culture and creating memorable experiences that will last a lifetime.

Our goal is to do all this, while maintaining a superior level of customer service that will exceed all expectations.

When you call, we'll be there like a friend away from home.

It isn't work to us.

This is what we love doing.

We know we've created so many positive memories for so many customers.

What most people don't know is how many positive memories they've created for us.

Okay, do it again.

Who is the Roman Guy

No.

Just for the record, it's Lorna.
Content Original Link: