Easy Spaghetti Carbonara | Gennaro Contaldo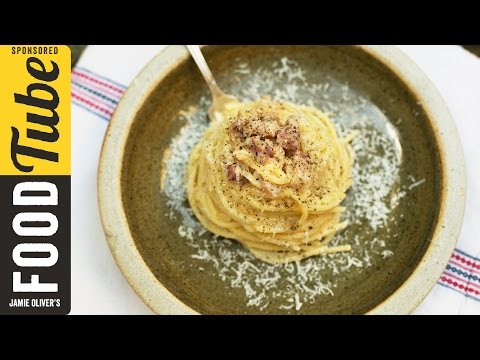 Sponsored by Bertolli.
Everyone loves this classic Italian dish and Gennaro has a version you'll want to make again and again. Cubes of pan-fried pancetta tossed through spaghetti with eggs, parmesan and butter give this dish a delicious rich, creaminess without the need for cream.
Pasta perfection.
To find out more about Bertolli with butter, click here http://www.bertolli.co.uk/product/ber...

For more classic Italian recipes subscribe to Gennaro's channel: http://jamieol.com/IrxaBv

Links from the video:
Four Cheese Pasta | http://jamieol.com/tu6xwX
More Food Tube videos | http://jamieol.com/JgCP03

For more nutrition info, click here: http://jamieol.com/D3JimM

Jamie Oliver's Food Tube | http://jamieol.com/M2xkcF
Subscribe to Food Tube | http://jamieol.com/kLO4Xo
Twitter: http://jamieol.com/wY1ZTB
Jamie's Recipes App | http://jamieol.com/E0TVBd
Tumblr: http://jamieol.com/6BR1lT
Facebook | http://jamieol.com/sZmG6S
More great recipes | http://www.jamieoliver.com

#FOODTUBE

x
Content Original Link: