Mad For Italy Pilot Italian kucina Tony & Marisa May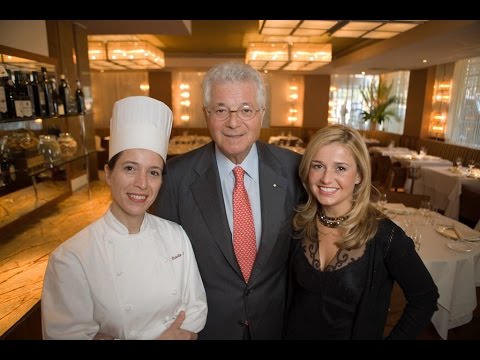 Mad For Italy presents: "Italian Kucina" hosted by Mr. Tony May, the owner of some of the very first original celebrated authentic Italian Restaurants in the United States, with his daughter Marisa May-Metalli.
It is impossible to hear the name Tony May, the legendary restaurateur and culinary beacon, without evoking one's passion for authentic Italian cuisine in American dining. For many decades, May has championed the integrity of his native cuisine in New York City while at the helm of the Rainbow Room, Palio, San Domenico NY, Gemelli World Trade Center and SD26, sourcing the most authentic Italian ingredients, finding and training the most passionate and experienced chefs, and educating the palates of New York diners and the American public at large. Tony May's instrumental career began at New York City's famed Rainbow Room at Rockefeller Center in 1964, where he quickly rose to General Manager and then the lease Owner-Operator of the Rainbow Room. He then opened the internationally acclaimed Palio in 1986, and followed that success with the iconic San Domenico NY, on Central Park South, known for its superior Italian cuisine and being the first Italian restaurant ever to receive 3 stars from the New York Times. In 2009, Tony and his daughter, the incomparable Marisa May, decided to bring contemporary Italian food to a new generation with their latest masterful endeavor, SD26. May has been touted worldwide for his contributions to the culinary field. His many honors include two IVY awards (1981, 1992), Silver Plate recipient by IFMA, a Silver Spoon by Food Arts for achievements over 25 years, and induction into The Nation's Restaurant News "Fine Dining Hall of Fame Legend." San Domenico NY was also one of only 24 restaurants in the world to receive the first Insegna del Ristorante Italiano from the President of the Republic of Italy, an award that recognizes the finest Italian restaurants outside of Italy. In addition to these accolades, Tony May has championed culinary education. He served on the boards of the National Restaurant Association, Gruppo Ristoratori Italiani, Distinguished Restaurants of North America and the Culinary Institute of America (CIA) for which he established the Caterina de' Medici restaurant and teaching program, a venue for students to learn Italian cuisine. He authored the vibrant cookbook, "Italian Cuisine," first written for professional chefs and later adapted for the home cook, and was a founder of the Italian Culinary Institute for Foreigners (ICIF) in Italy where restaurant professionals can acquire advanced skills. He has mentored this some of this nation's new generation of impressive Italian chefs, including Paul Bartolotta, Mark Bianchini, Andrew Carmellini, Scott Conant, Marc Vetri, and Matteo Bergamini, For his incredible enthusiasm for the highest quality ingredients and methods, his refinement of the American palate, and most importantly, his unceasing commitment to the education of a new generation of culinary professionals, Tony May was honored by C-CAP (Careers Through Culinary Arts Program) is on his 50th Anniversary in the food industry in New York City.
https://www.youtube.com/watch?v=874q3...
Content Original Link: