Playing Hunger Games, Stanley Tucci | On The Table Ep. 3 Full | Reserve Channel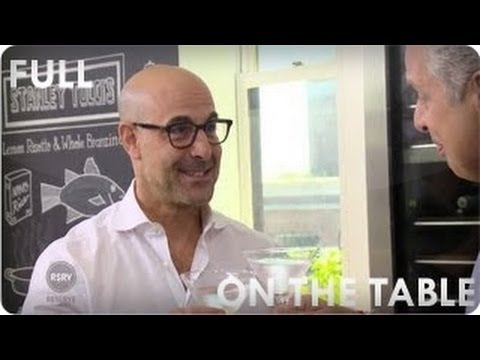 "Food, like film, is performance. Both are dramatic, romantic, spectacular or sad," says Eric Ripert. Join him and guest Stanley Tucci as they start the day with vodka martinis, prepare lemon risotto and whole branzino, talk about their childhoods, quip over how actors are like chefs, and then toast over a bottle of wine while they enjoy the final dish.
""We laugh we cry, we cook,"" says Ripert. Bro bonding in the kitchen flourishes in Episode 3 of ON THE TABLE.

On The Table w/ Eric Ripert
Celebrated chef and television personality Eric Ripert of New York City's acclaimed Le Bernardin invites celebrity friends into his home kitchen where together they prepare the guest's signature dish -- one that defines them -- all the while discussing food, creativity, life and passion.With a great meal and maybe too much wine, everything is ""On the Table.""

SUBSCRIBE: http://full.sc/VX9hqH

Reserve Channel provides once-in-a-lifetime access to some of the more extraordinary people and places life has to offer. Whether it's traveling to exotic locales, getting inside the studio with iconic artists, or cooking alongside culinary legends, Reserve Channel has you on the list. This is where the content appetite of the cultural creatives is satisfied.

FOLLOW US TWITTER: http://full.sc/VXoWpU
LIKE US ON FACEBOOK: http://full.sc/PUaj19
GOOGLE+: http://full.sc/PUaoSk


*CHECK OUT OUR OTHER SHOWS*
ACROSS THE BOARD with Joy Bryant: http://full.sc/TUWErV
ARTST TLK with Pharrell Williams: http://full.sc/XhdMwW
BE WELL WEEK with Dr. Lipman: http://full.sc/VXoKqu
ON THE TABLE with Eric Ripert: http://full.sc/VX9zO9
CAPTURE with Mark Seliger: http://full.sc/PTZD2q
EX-PATS: http://full.sc/VX9Nol

BAKED PORTOBELLO MUSHROOMS
Serves 4

4 large portobello mushrooms, skinned and stems removed
Fine sea salt and freshly ground black pepper
3 sprigs of fresh thyme, leaves removed
¼ cup extra-virgin olive oil, plus 3 tablespoons
4 cloves garlic, thinly sliced
1 large lemon, sliced ¼-inch thick
4 sprigs fresh rosemary
1 clove garlic, halved
½ pound mache, rinsed and dried


Preheat oven to 500˚F. Place mushrooms, stem-side up, on baking sheet. Season with salt and pepper. Arrange thyme leaves and garlic on top of each mushroom, and drizzle with olive oil. Transfer to oven and cook until tender, 8 to 10 minutes, or until a knife inserted into the middle of mushroom can easily be removed.
While mushrooms are cooking, make vinaigrette. Preheat a flattop or place a large skillet over high heat. Place lemons on flattop, and drizzle with 1 tablespoon olive oil. Cook until scorched, turning once, about 4 minutes. In a medium bowl, toss rosemary with 2 tablespoons olive oil, and transfer to heated surface. Cook until lightly browned, about 3 minutes. Return rosemary to the bowl; add garlic and season with salt and pepper. Add scorched lemons and gently crush with spatula or wooden spoon to release juice. Strain the vinaigrette, pressing firmly to release liquid. Adjust the seasoning with lemon juice and salt, if necessary, and set aside.
Remove garlic from mushrooms, and slice thinly. Arrange slices into a circle on each plate and drizzle with vinaigrette. Toss mache with 2 teaspoons vinaigrette, and place a small mound of greens in the center of mushrooms. Serve immediately.
*Note: to make ahead, let vinaigrette mixture marinate, covered, in the refrigerator for up to overnight before straining.


Playing Hunger Games, Stanley Tucci | On The Table Ep. 3 Full | Reserve Channel
http://www.youtube.com/user/reservech..."
Content Original Link: