Panna Cotta - Original authentic Italian recipe of this show stopper of a dessert! Panna Cotta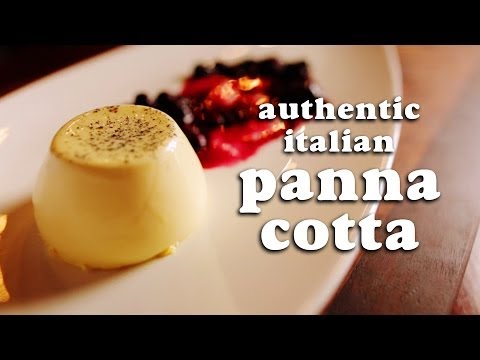 Originally thought to be from Piedmont in North Italy, this Panna Cotta is a show-stopper. See the full recipe below.....

Panna = Cream
Cotta = Cooked

Cooked CREAM, get it? That means you should not be using milk, half and half, or light cream in this recipe!

PANNA COTTA RECIPE
Makes 4-6 panna cottas

Ingredients

2 cups heavy cream (500ml, or 1 pint)
2 ½ tblsp sugar (45gr, or 1 ½ oz.
)
1 vanilla pod
1 leaf of gelatine
1 tsp vanilla extract (not vanilla essence)
1 tbsp dark rum (optional)
2 x cups mixed berries

Process

Soak gelatine in a little cold water until soft.
Grab a heavy based pot and add cream and sugar.
Split and scrape out vanilla pod. Add whole pod and vanilla extract.
Gently bring to the boil, then take off the heat.
Mix in gelatine until dissolved.
Mix in rum, then strain through a fine sieve.
Add to moulds and refrigerate (preferably overnight) until set.

To make the sauce

Add berries to small pot with 1 ½ tbsp sugar.
Cook on a low heat for 15 minutes.

To turn out Panna Cottas

Dip moulds in warm water for 5 seconds.
Gently turn out.
They may require a firm 'jolt' to release them from their moulds!
Serve with berry sauce.

Producer: Al Marczyk
Production: Al Marczyk and Alex Scott
Editing and motion graphics: Alex Scott

Music: 'Strange Italian Song' by Juanitos http://www.juanitos.net/
No changes were made to this music track
Attribution: http://freemusicarchive.org/music/Jua...
Licence agreement: http://creativecommons.org/licenses/b...
© Copyright Al Marczyk
Enquiries: This email address is being protected from spambots. You need JavaScript enabled to view it.

PLEASE CHECK OUT SOME OF OUR OTHER VIDEOS!

How to make Guacamole:
https://www.youtube.com/watch?v=dCV9h...

How to make Spaghetti Carbonara:
https://www.youtube.com/watch?v=suG0T...

How to make Peach Cobbler:
https://www.youtube.com/watch?v=RMgil...
Content Original Link: