10 Things you must Eat in Bologna [Italy]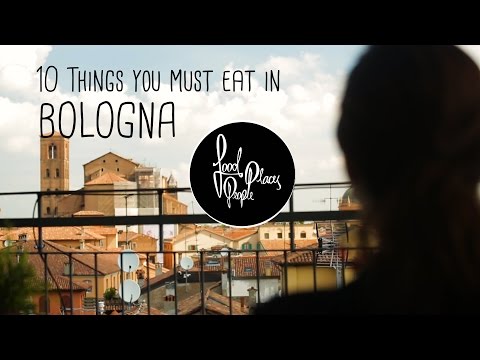 The list of things to eat in Bologna is truly endless. Because of its position in the fertile region of Emilia Romagna and its history as the oldest university in the world, Bologna's food culture is renowned in the whole country and in the whole world!
First staple of its food culture, the fresh egg pasta.
From Lasagne, to Tagliatelle, but also Gramignia or Tortellini, there is a lot to taste and they're incredibly tasty. They are sometimes dressed with meat sauce, the famous "Bolognese" called ragù, but also broth or cream. The bolognese cuisine also heavily relies on pork meat and cheeses coming from the whole region: ham (prosciutto) and Parmesan from the neighbour city of Parma, dried sausage (salumi), or the famous Mortadella, sometimes called Bologna in English. The nearby vineyards provide sparkling white wine such as Pignoletto but also sparkling red wine like the Lambrusco.

During your trip in the Italian city of food called La Grassa (the fat), here are what you should not miss!

#1 Tagliatelle al ragu: the original spaghetti alla bolognese are actually fresh egg pasta and not spaghetti
#2 Lasagne: not only this famous pasta dish comes from Bologna, but you will also discover that the pasta is originally green thanks to spinach
#3 Tortellini al brodo: one of the most iconic pasta of Bologna, those little bags are stuffed with prosciutto and cheese and served in broth
#4 Gramignia alla salsiccia: those little spirals of pasta are served with a sausage based sauce and it's just delicious
#5 Mortadella: this famous and large Italian sausage, seasoned with myrtle berries and pistaccios is the specialty of Bologna
#6 Cured Pork Platter: produced from all around, the region supplies Bologna with delicious prosciutto such as Parma Ham, dried salsiccia, lard and more.
#7 Piadina: this flat bread comes from the Romagna region, and is generally stuffed with ham, fresh cheese, or vegetables. This is the typical sandwich of Bologna
#8 Tigelle: they looks like mini pancakes but they are salty. Filled with cheese, figs, or hams, they will go along your aperitivo during the whole night.
#9 Torta di riso : the most famous cake of Bologna is made out of rice, amaretto and almonds. It's just delicious and the perfect companion to your coffee
#10 Sparkling wine: it's not to eat, but wine definitely belongs to the Bolognese food culture. Try out some of its sparkling wine such as Pignoletto and Lambrusco!

Enjoy your trip and your meals! Buon appetito!
Content Original Link: