Real Spaghetti Carbonara | Antonio Carluccio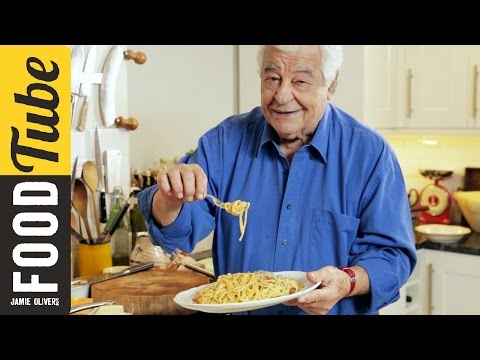 RIP dear Antonio. You will be truly missed. X

The legendary Antonio Carluccio finally makes his debut on Food Tube! We are honoured to have this incredible chef, author, restauranteur and old friend of Gennaro Contaldo share with us - and you - his authentic Italian carbonara recipe.
So simple. So tasty.

What's your favourite pasta recipe Food Tubers? Any other great tips or methods for making this most classic of dishes? Please get in touch in the comments box below.

Would you like to see more of Antonio on the channel? If you shout loud enough we'll ask him very nicely to do some more videos!

Recipe here: http://goo.gl/QuRCzK

In the meantime you can read more of his fantastic pasta recipes in his new book: http://goo.gl/509kJ3

And you can read more great recipes in the Two Greedy Italians book written with Food Tube's very own Gennaro Contaldo: http://goo.gl/yLNlkJ

Links from the video:
Perfect Spaghetti Bolognese | http://goo.gl/4solzy
More Food Tube videos | http://goo.gl/D9NMja

For more nutrition info, click here: http://jamieol.com/D3JimM

Jamie Oliver's Food Tube | http://goo.gl/EdJ0vK
Subscribe to Food Tube | http://goo.gl/v0tQr
Twitter: https://twitter.com/JamiesFoodTube
Tumblr: http://jamieoliverfoodtube.tumblr.com/
Facebook | http://goo.gl/7R0xdh
More great recipes | http://www.jamieoliver.com

#FOODTUBE

x
Content Original Link: