Grandparents and Grandchildren in Italian America (Official Project Presentation)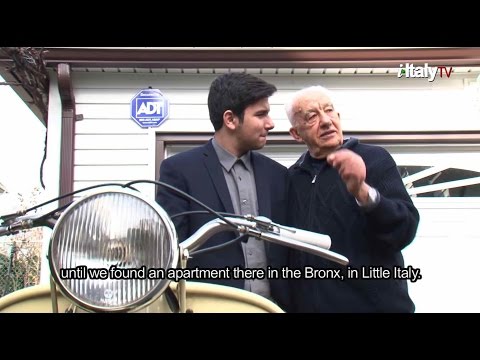 GRANDPARENTS AND GRANDCHILDREN IN ITALIAN AMERICA is a video series featuring the relationship between different generations of Italians in America narrated firsthand
by couples of grandparents and grandchildren. Their conversations touch on all central issues concerning Italian identity in the US, from immigration to religion, from language to cooking and traveling in Italy.

This video is a presentation of the full project and serves as a kick-off to a campaign to expand the project in the months ahead. What we envision is a collective narration of the Italian experience in America to be handed down from one generation to the next, shown in schools and colleges, and distributed via the Internet and public television both in Italy and in the US.

This first series of "Grandparents and Grandchildren" was produced by i-ItalyTV and ANFE in 2015-2016, with the support of Italy's Ministry of Foreign Affairs, Direzione generale per gli italiani all'estero e le politiche migratorie. The videos were shown on TV as part of the weekly program "i-ItalyNY", airing every Sunday at 1PM on NYC Life (Channel 25 & HD 525), and then made available on the Web (www.iItaly.org).

The protagonists of this first series include:
- Matilda Raffa Cuomo and Amanda Cole
- Joseph Tusiani and Paola Tusiani
- Aileen Riotto Sirey and Emma Bankier
- Rosaria Liuzzo and Mara Sparacino
- John P. Calvelli and John D. Calvelli


GRANDPARENTS AND GRANDCHILDREN IN ITALIAN AMERICA
NONNI E NIPOTI NELL"ITALIA AMERICANA

Based on an idea of Letizia Airos, Gaetano Calà and Ottorino Cappelli
Written and Directed by Letizia Airos
Director of Photography Matteo Banfo
Filmed and Edited by Matteo Banfo. Mattia Minasi. Ennio Serafini
Production Assistant Mila Tenaglia
Music: Audionautixcom; Bensound
Translations and Subtitles: Bianca Soria, Roberta Cutillo, Francesca Maltauro, Lorenzo Lasagna, Sian Gibby, Athena Mellor

Special thanks to Elisabetta Recchione Calello, Elisabetta Briguglio, Maria DiMeo Calvelli, Annalisa Liuzzo. The John D. Calandra Italian American Institute. Queens College, CUNY.
Content Original Link: